Campaign: FREE, Human Rights Defenders in Bahrain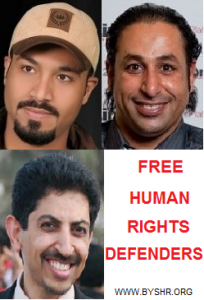 Mr.Abdulhadi Alkhawaja: is the former MENA Coordinator for frontline Defenders, the Previous President of the Bahrain Centre for Human Rights and the sitting President of the Gulf Centre for Human Rights. He is known as one of most prominent human rights defenders in the regions and a trainer of human right activists. Last April, Mr.Alkhawaja was arrested for his role in the pro-democracy protests and sentenced to life in prison. The activist was subjected to severe torture that was documented by the BICI (Bahrain Independent Commission of Inquiry). Mr.Alkhawaja began the hungerstrike on Wednesday the 8th of February, and demanded "Freedom or death" as a condition for ending his hungerstrike. He has been taken to hospital more than once in the past days.

Mr.Naji Fateel: is a board member of the Bahrain Youth Society for Human Rights (BYSHR) and blogger who has been active in reporting human rights violations in Bahrain.He used his account on Twitter (https://twitter.com/#!/najialifateel) for dissemination of human rights information. He was previously detained between Dec 2007 and April 2009, and has been reportedly tortured. His house was stormed in search for him several times last year following the crackdown on pro-democracy protesters. He was suffering from damage to his spine and was supposed to travel abroad to get medical treatment.
Mr.Hasan Al-Jaber: is a prominent human rights blogger who is regarded as a reliable source for Bahrain news. He used his account on Twitter (https://twitter.com/#!/HasanAljaber) for dissemination of human rights information. He used to report from protests, posting first-hand testimonies of human rights violations to the media and also contributed to support non-violence strategies in cooperation with the BYSHR.

ACT NOW:
1-Use the picture (on top) in Twitter and Facebook.
2-Use the Hashtaq (Twitter) : #FREEHRDBAH
3-Sit in front of the Embassy of the Kingdom of Bahrain in your country (Search for Embassies:http://www.mofa.gov.bh/)
4-PLEASE SEND APPEALS BEFORE 30 MARCH 2012 TO:

His Majesty the King
Shaikh Hamad bin 'Issa Al Khalifa
Office of His Majesty the King P.O. Box 555 Rifa'a Palace, Manama, Bahrain
Fax: +973 176 64 587
Salutation: Your Majesty
Minister of Interior
Shaikh Rashid bin 'Abdullah bin Ahmad Al Khalifa
Ministry of Interior
P.O. Box 13, Manama,
Bahrain
Fax: +973 172 32 661
Salutation: Your Excellency
Minister of Human Rights and Social Development
Dr Fatima bint Mohammed Al Balooshi
Ministry of Human Rights and Social Development
P.O. Box 32868, Manama, Bahrain
Email: pr@social.gov.bh
Salutation: Your Excellency