The Bahrain Youth Society for Human Rights (BYSHR) expresses its deep concern for the threats received by Mr. Mohammed Al-Maskati – president of the BYSHR – during his participation in a workshop on the mechanisms of the UN with an international organization. Mr. Al-Maskati will also be participating in a human rights session on Bahrain among the mechanism of "Universal Periodic Review".
The Vice-president of the BYSHR Mr. Nader Al-Salatna indicated that, Mr. Al-Maskati had tweeted his mobile number – a local number in Geneva – on his twitter account to maintain the communication between him and the victims in Bahrain. However, for Three continuous days (10 –11-12 September) he received anonymous calls threatening him with death because of his participation in Geneva, and he was threatened with assault upon his arrival in Bahrain. The callers also cursed him, and they also turned on disturbing sounds for long periods of time starting at one am.
Mr. Al-Salatna also confirmed that, "The BYSHR believes that whoever called Mr. Al-Maskati is connected to the local authorities in Bahrain in order to intimidate Mr. Al-Maskati from participating in the 21st session of Human Rights Council ."
Mr. Al-Maskati had participated in the 20th session of Human Rights Council and had met several diplomats and office of the High Commissioner for Human Rights, in addition to international organizations; 27 states had issued a joint statement on Bahrain during the UN sessions.
During the past few weeks, slander campaign orchestrated against Mr. Al-Maskati on Twitter by unknown persons and pro-government pages due to the publish the names of the officers who are abusing prisoners.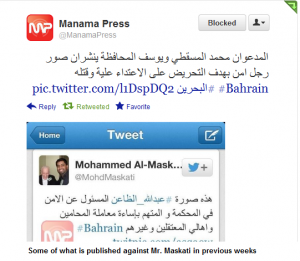 The BYSHR demands providing the protection of human rights defenders who use the UN mechanisms, and who participate in the UN sessions, as they are subjected to revenge by the Bahraini Authorities. The BYSHR demands the protection of Mr. Mohammed Al-Maskati and that he is not targeted upon his return from Geneva to Bahrain.