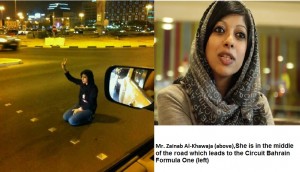 The Bahrain Youth Society for Human Rights (BYSHR) has learnt from family members that both human rights Activist Ms.Zaynab Alkhawaja as well as pro-democracy activist Ms.Masooma Alsayyed were transferred Monday (21 May) to the Bahrain Defense Force Hospital after a drop in their blood sugar. The BYSHR was informed that the activist refused to be treated in the military hospital and were consequently transferred to the Ministry of Interior Clinic for IV.
Ms. Zaynab Alkhawaja was once again transferred to the clinic yesterday (22 May) after another drop in her blood sugar. Alkhawaja is on her third day of hungerstrike protesting the detention of pro-democracy activist Ms. Masooma Alsayyed who is also on hungerstrike demanding freedom. Ms. Alsayyed has at least three cases filed against her for protesting.
In another development Ms. Alkhawaja was fined yesterday in court for allegedly insulting a police officer but remains in detention as she has other cases filed against her, one at least which also includes a detention order. The BYSHR has also been informed that Ms.Alkhawaja has also been given summons for two additional cases other than the one she was acquitted for, one she was fined 200BD for and the two pending sentence.