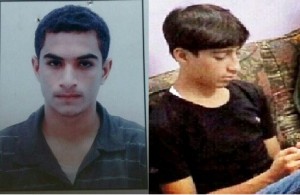 Pic : Cousins ​​(from the family of Aljazeeri) were killed in protests
The Bahrain Youth Society for Human Rights (BYSHR) expresses its deep concern after the Bahraini Authorities had crushed the protests in the second anniversary of protests which began on 14 February 2011. The Bahraini Authorities had suppressed the protestors on (14-15-16 February) and prevented any attempts of protesting peacefully beside the Pearl Roundabout which was demolished by the Bahraini Authorities, after forces from the Gulf Cooperation Council had entered the country.
This report documents the events of Thursday, Friday and Saturday (14 – 15 – 16 February). The BYSHR had gathered this information through more than 15 field observers who were spread among many Bahraini villages.
Full Report (Here)