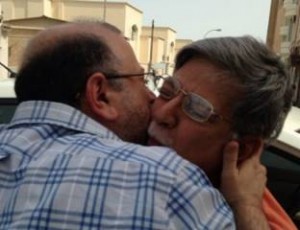 Photo: Dr. Saeed Al-Samahiji, After he was released on April 23, 2013
Dr. Saeed Al-Samahiji – Ophthalmologist – facing trial on September 23, 2013 on charges of insulting the king.
Dr. Al-Samahiji been summoned by the Criminal Investigation on Wednesday, September 18.
On September 19, he was questioned by the public prosecutor and criminal investigations. He was released later.
The Public Prosecution accused him of delivered a public speech on September 1, 2013.
The Bahrain Youth Society for Human Rights demands:
1-Guarantee freedom of opinion and expression.
2-Dropping the charges relating to freedom of expression.
Background:
April 2011: Dr. Saeed Al-Samahiji was arrested after the authorities suppressed Bahraini protesters in the Pearl Roundabout.
September 29, 2011: The court sentenced him to 10 years imprisonment.
June 14, 2012: Court of Appeal reduced the verdict against him to one year imprisonment.
October 1, 2012: The Court of Cassation upheld the previous court's conviction and sentence against him.
April 23, 2013: The Bahraini authorities released him after serving a one-year imprisonment.