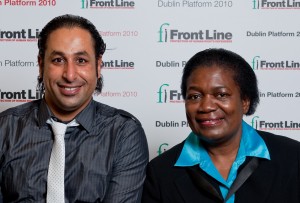 Pic: Naji Fateel with Margaret Sekaggya
7 May 2013
The Bahrain Youth Society for Human Rights (BYSHR) expresses its grave concern for the information received from trusted sources that Naji Fateel – an administrative member of the BYSHR – was subjected to brutal torture in the Criminal Investigation building.
According to the information received by the BYSHR, Naji Fateel was subjected to:
1.Electrocution (in the genital, on his left leg and on the back)
2.Simulated drowning
3.Beating (by using the feet, hands or unknown tools) on the left leg – Naji had an operation on his left leg due to a work injury, he had it fixed with a metal rod – and on his head and back.
4.Threatening to spread his wife's photos (when Naji's house was raided his wife's camera was confiscated and it had her personal photos in it).
5.Hanging him by his hands from the room's ceiling (his feet did not reach the room's floor).
6.Libelling and insult (using sectarian and political expressions).
7.Sexual harassment and threatening with rape.
8.Standing up for long hours.
9.Not allowing him to sleep, sit or lay down.
Naji Fateel was handcuffed – from the back – and blindfolded while he was in the Criminal Investigation building; the handcuffs and blindfold were only opened after he was transmitted to the Dry Dock prison.
Naji Fateel was taken to hospital twice – the Ministry of Interior hospital – while he was in a state of coma due to the torture he faced.
He was taken to the Public Prosecution at night, and before the Public Prosecutor, Naji Fateel refused to be interrogated without the presence of a lawyer, he was then returned to the Criminal Investigation building where he was beaten more severely than before because he had asked for his lawyer. When he was returned at dawn on Saturday – 4 May 2013 – he signed papers before the Public Prosecutor and he was not permitted to see what was written.
On Saturday evening – 4 May 2013 – Naji Fateel called his family and informed them that he was in the Criminal Investigation building after he was cut off since his arrest on Thursday at dawn (2 May).
On Sunday at dawn – 5 May 2013 – Naji Fateel was transferred to the Dry Dock prison where he suffers from several injuries and severe fatigue.
The Bahrain Youth Society for Human Rights (BYSHR) demands:
1.The immediate release of Naji Fateel and dropping all charges against him.
2.Immediately and independently investigate the torture allegations and hold those responsible for torture and abuse accountable, and that includes those who interrogated him in the Public Prosecution and Criminal Investigation building.