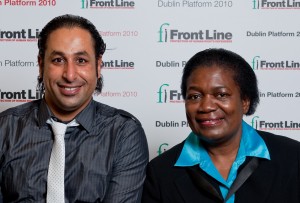 Pic: Naji Fateel with Margaret Sekaggya
The Bahrain Youth Society for Human Rights (BYSHR) expresses its grave concern for the pictures received from reliable sources, shows marks of torture on Naji Fateel body.

Pic: Marks of torture on Naji Fateel body
On July 11, 2013, Naji Fateel was attended the first hearing before the Fourth Criminal Court, rejected the charges against him and confirmed that he was tortured.
The judge has decided to postpone the case to July 25, 2013
According to the information received by the BYSHR, Naji Fateel was subjected to:
1.Electrocution (in the genital, on his left leg and on the back)
2.Simulated drowning
3.Beating (by using the feet, hands or unknown tools) on the left leg – Naji had an operation on his left leg due to a work injury, he had it fixed with a metal rod – and on his head and back.
4.Threatening to spread his wife's photos (when Naji's house was raided his wife's camera was confiscated and it had her personal photos in it).
5.Hanging him by his hands from the room's ceiling (his feet did not reach the room's floor).
6.Libelling and insult (using sectarian and political expressions).
7.Sexual harassment and threatening with rape.
8.Standing up for long hours.
9.Not allowing him to sleep, sit or lay down.
The Bahrain Youth Society for Human Rights (BYSHR) demands:
1.The immediate release of the prominent human rights activist Naji Fateel.
2.Drop all charges against Naji Fateel.
3.The immediate and urgent investigation in the torture allegations Naji Fateel was subjected to in the Criminal Investigation Department.
4.Bring those responsible for torture to fair trials.
For more information on the case of Naji Fateel: http://byshr.org/?p=1375