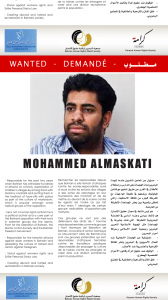 Pic: Campaign "name and shame"
The Bahrain Youth Society for Human Rights expresses its deep concern for the media campaign that was launched against Mr Mohammed Al-Maskati – president of the BYHSR – and other activists (Abbas Alomran, Ali Hassan Mushaima, Abdulghani Khangar, Maryam Al Khawaja, Nada Dhaif, Moosa Abd Ali, S Ahmed Al Wadai, Qasim Al Hashmi, Yousif Al Muhafda, Sehab Al Hashmi, Husain Abdul, Ali Abdulemam, Jalila Al Salman, Hussain Jawad, Reada Al Fardan, Maithem Al Salman and Rula Al Safar) on social media networks and official newspapers.
On 23 November 2013, Akhbar-al-khaleej newspaper (both the Arabic and English ones) published names of Bahraini activists and considered them to be 'wanted for justice' on various charges, among them inciting violence and hatred.
This campaign which was titled 'wanted' was led by three Bahraini pro-government associations and they are: Bahrain Human Rights Watch Society, Gulf-European Centre for Human Rights and Karama Human Rights Society; these organizations have in the past launched campaigns against human rights defenders in Bahrain, as well as international organizations. ( Reference: http://www.akhbar-alkhaleej.com/13028/article/57997.html, http://www.gulf-daily-news.com/NewsDetails.aspx?storyid=365424 )
On 24 November 2013, Mr Al-Maskati filed a complaint in the police station against Akhbar-al-khaleej and Faisal Foulad (president of the Bahrain Human Rights Watch Society) accusing them of slandering and defaming him.
On the same day – 24 November – a group of anonymous people launched another campaign against Mr Maskati and others on social media networks; the name of the campaign was 'the public trial'.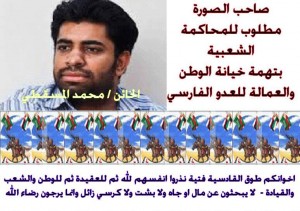 Pic: Campaign "the public trial"
The Bahrain Youth Society for Human Rights takes these campaigns seriously against Mr Al-Maskati due to previous similar campaigns for slander and death threats faced by Al-Maskati, especially because of his participation in the Human Rights Council sessions in Geneva and his cooperation with the UN mechanisms.
The Bahrain Youth Society for Human Rights considers this campaign to be supported by official bodies, and the BYSHR will test the credibility and independence of the Public Prosecution by filing complaints against those who smeared the reputation of Mr Al-Maskati and others.
We believe that the Bahraini government has been emboldened by international silence on its recent arrests and harassment of human rights defenders and may take inaction.
The BYSHR call on the UN High Commissioner for Human Rights to urgently issue a press release condemning these acts and calling for all States to ensure that human rights defenders are able to cooperate safely with the UN human rights mechanisms. The Human Rights Council should also ensure that it raises these acts of reprisals with the State concerned in order to ensure accountability, non-recurrence, and full protection for the human rights defenders involved.
Background:
•In March 2011, anonymous groups started posting private information about Mr Al-Maskati and others and these groups called for killing the human rights defenders. (Reference: http://byshr.org/?p=320 )
•In December 2011, he received a threat from a former officer in the State Security (Reference: http://byshr.org/?p=869 )
•In September 2012, Mr Al-Maskati received death threats while in Geneva to attend the Human Rights Council sessions. (Reference: http://byshr.org/?p=1164 )
•In October 2012, Mr Al-Maskati was arrested on the charge of 'participating in unauthorized protests' (Reference: http://byshr.org/?p=1191 )
•In June 2013, the court summoned Mr Al-Maskati on the charge of 'participating in unauthorized protests' (Reference: http://byshr.org/?p=1410 )
•In October 2013, the authorities summoned Mr Al-Maskati and charged him with 'inciting hatred against the regime'. (Reference: http://byshr.org/?p=1555 )