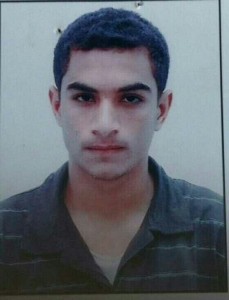 Pic: Mr.Mahmood Aljazeeri
Mr.Mahmood Aljazeeri-20 years old- died today (February 22) after being shot by security forces in Nabeh Saleh village.
As witnesses told Bahrain Youth Society for Human Rights (BYSHR) that Mr.Aljazeeri Was participating in a peaceful protest in the village of Nabeh Saleh on February 14, 2013.He was shot directly by a tear gas canister. He collapsed to the ground and his friends carried him away to be treated in a private home. His injuries he sustained were too severe, and he was taken to a hospital. During that time, he fell unconscious, and received a surgery for his injuries.
February 14, the second anniversary of the protests in Bahrain.
The video below shows a protester, Mr.Mahmood Aljazeeri ( When he was wounded in the head)
Mr.Aljazeeri has suffered internal bleeding.