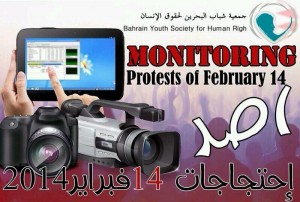 Introduction:
Full report (PDF – English)
14th of February coincides with the annual anniversary of protests in Bahrain and which began in 2011. Yearly, thousands of Bahrainis protest in villages to demand a constitutional monarchy or self-determination.
In February 2014, the political societies and movements announced organizing widespread protests that took place from 10 February and continued until 15 February.
The Bahrain Youth Society for Human Rights announced on 10 February that it will prepare a team of observers on the ground to monitor the human rights violations during this period. (BYSHR statement: http://byshr.org/?p=1631)
The BYSHR used modern techniques to monitor the violations and it published all the information related to the violations on this website: https://feb14byshr.crowdmap.com/
The BYSHR is an independent body for monitoring, evaluating and analysing human rights violations and is not affiliated with any political body or party and the information that has been collected is credible and was made sure to be correct by various means.
Full report (PDF – English)