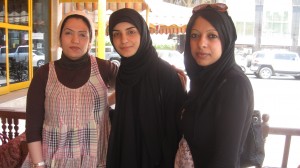 Photo: Before entering the UN building
URGENT ACTION REQUEST:
Arrest of 3 Activists at the Request of the UNDP Officials in Bahrain After Staging of Sit-in in UNDP Building
Fear for Safety and Well Being of Activists
After a 3 hour sit in at the United Nations office in Bahrain today, Ms. Zaynab Alkhawaja (better known as Angryarabiya on twitter, daughter of Abdulhadi Alkhawaja Prominent Human Rights activist) Ms. Sausan Jawad (daughter of detained activist Mr. Parwees Jawad) and Ms.Asma Darwish (on her 12th day of hunger strike protesting the detention of her brother) were forcibly removed by Bahraini police and arrested.
According to the Bahraini Ministry of Interior, this was done at the request of the UNDP officials. The three ladies have been transferred to a police station and according to a tweet by the MOI: "Legal procedures were taken today against three ladies refused to leave the UN office after receiving complaint from the office's officials"
The three ladies had staged a sit-in to protest the arrest and detention of their family members and had submitted a letter to the Secretary General of the United Nations Mr. Ban ki Moon asking that the UN take action.
The Bahrain Youth Society for Human Rights (BYSHR) finds this a very dangerous precedence and is alarmed at the fact that the UNDP would take such action knowing well the situation of detainees in detention and the mistreatment that have been taken place in addition to the fact that this violates UN protocol. The BYSHR hold the UNDP and its officials responsible for the well being of the three aforementioned activists and calls for urgent action to ensure their safety.

Letter to UN Secretary General: http://byshr.org/wp-content/letter-to-UN.pdf

BYSHR Report: http://byshr.org/?p=602